News
Congratulations to Albert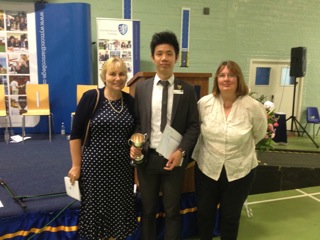 A very special award has been given to Albert studying at Wymondham College at Speech Day. Our local guardian Ingrid was there for him to receive his award and sent he following report:
I spent an enjoyable few hours this weekend at Wymondham College with Albert when he was presented at Speech Day with a special Wymondham College honour cup - The Gail Ferguson Award - this was presented to Albert to mark the positive contribution he has made to school and in particular to Year 13.
Albert has been at Wymondham since 2011 and has been very notably positive in his approach to his studies and to his fellow students from the outset. It has always been a pleasure for me to meet with him and to engage in many long and interesting conversations - often related to history or politics as well as school matters. He is very outgoing and always impeccably mannered. He has now finished his A level studies in History, Sociology and Maths - Albert hopes to study politics at Warwick. Everyone at White House Guardianships wishes Albert the best of luck for the future!