State School Programme
UK State School
WHG works with over 100 state schools across England and Wales. Application in most cases is direct to a school but in some areas, schools are governed by the Local Authority (LA). If a school is under LA jurisdiction, application must be made direct by the parents and WHG will give advice on filling out the correct forms and sending them to the correct contact. School application can take 1 week up to 8 weeks depending on the time of year and number of applications the school/LA is dealing with at that time. Please note that during school holidays, state schools are closed and there is no chance of speaking to them about an application.
Once your child has been accepted by a school, WHG will place them with one of our DBS-checked and inspected host families. Placements are made based on your requests in your application form, the transport links and location of your school.
Once placed, we will send you confirmation of participation with full details of your school, local guardian and a host family profile. When you receive this, we encourage you to make contact with your host family to get to know each other.
About the WHG State School Programme
Our state school programme has the following benefits:
Weekly contact from a WHG Local Guardian
All students are assigned a Local Guardian - this person will be their main contact for the duration of their time with us. Our Guardians have been hand-picked by us, often parents themselves they are aware of the needs of students studying in England.
Host Family Accommodation
Host family accommodation (including Easter holidays) and meals are provided.
Our network of host families offer a safe and caring environment for students under our care. All our families are DBS checked and reviewed regularly by their Local Guardian. We do our best to match families with student preferences.
Airport Transfers
Four airport transfers (September, December, January & July) are included.
Regular Updates
The Local Guardian will submit four pastoral reports during the year (start of the year, December, April, July). They will also attend parent and teacher meetings and record the outcomes. All of these reports will be sent directly to parents and are also available to view on the MyWHG Online Portal.
Arrangement of transport and accommodation
All transport is selected from our database of trustworthy providers - transport updates are sent to parents and are also available to view on the MyWHG Online Portal.
Emergency contact 24 hours a day / 7 days a week
Someone is always available in the event of an emergency: +44 3 458 686 688
Safeguarding
The safety of students under our care is our utmost priority. All WHG staff and Local Guardians undergo regular security screening checks. All our host families have completed government DBS checks and been interviewed before they are accepted as a WHG family. Annual reviews of the family and home are also carried out to ensure a pleasant and safe environment is being provided.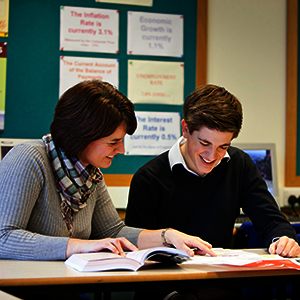 How to Apply
Contact us for more information or to apply for the state school programme.
Student Information
Before arriving in the UK you will receive confirmation of your host family in a pack with pictures and contact details.
We encourage students to contact their host families before arriving.
You will also have the name and contact details of your Local Guardian who will visit you within the first two weeks to introduce themselves and to remind you that if you need anything do not hesitate to make contact. After that, there is weekly contact which will include a personal visit every 4 weeks.