Our Lady's Abingdon School
About Our Lady's Abingdon Private Day Pupil Package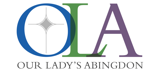 Location: Oxfordshire
OLA is a Catholic, co-educational day school located in the heart of Abingdon. We successfully combine excellent academic achievement with huge strengths in the creative and performing arts. Exceptional pastoral care and an innovative, inclusive culture underpin all that we do.
OLA is a purposeful, outward-looking school with a happy, family atmosphere which gives students the freedom to develop within a structured framework.
This package includes:
School Fees
Host Family Accommodation during term time and half term holidays
How to Apply
Contact us by phone or email for more information or to apply for the Our Lady's Abingdon Package.
Costs
WHG Day Pupil Programme Fees
WHG Registration Fee
£135.00
Expenses Deposit
£1200.00
School Fees
School Registration Fee
£100.00